Every moment, every day, we are all making something – whether it's science or art, a relationship or a destiny – building it choice by choice, moment by moment. Our decisions shape other people's worlds as well as our own. We are all the center of our own universe, and all of us in someone else's orbit. It's a paradox, but sometimes paradoxes are where the truth begins.
That was incredible.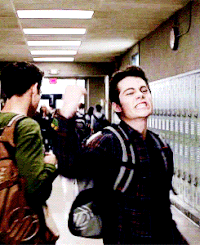 This was such an action-packed book. I was actually dreading picking It up. There's too much pressure for the final book in a series you love; my expectations were beyond belief, and I'm happy to say it lived up to my expectations, it even went further than that and BLEW MY FRIGGIN MIND. I actually regretted not re-reading the first two books; I'm used to getting completely-released series and binge-reading them. So that's something I should look out for in the future. I was a little confused at times, but then everything clicked into place and I started remembering what happened in the previous books. I'm glad to say that I finally found a sci fi series with a satisfying ending. So this is hands-down the best Sci Fi series I've read, and that's saying something, because I hate really Physics.
Can we please talk about Paul?
The scene in which the Russiaverse Marguerite meets our Paul was heartbreaking, to say the least. And the fact that she asked him what she should name the baby was just too much.
Moscowverse was probably my favorite. PAUL AND MARGUERITE HAVE A BABY GIRL. Paul giving her a bath and singing her to sleep was something I would've loved to actually see. It was such a different side of Paul that melted my heart. And I actually laughed out loud when it was our Marguerite and our Paul in that universe because it felt a lot like they were playing house; it was hilarious. Our Paul's reaction to him holding the baby when he shifted to Moscowverse was another thing I would've loved to see.
Triadverse kept me on edge. Especially when Paul was shot, and Marguerite was coming to terms with him actually being dead. I was still in denial, to be honest. So when he showed up after Wicked (will come back to that piece of shit later on) set the Firebird to destroy our universe, I was in tears. More so when he and Marguerite held on to each other as the earthquake destroyed everything.
When Paul first came up with the idea of using two Firebirds as an alternative to a stabilizer and no one gave him a glance, I was like hello, the hot science geek here has a friggin point, so when he used that at the end to save our universe, I was literally cheering.
Wicked was a pain in the ass, and that's putting it lightly. I sort of understood her jealousy; her parents (and every Triadverse character) were out of their minds trying to bring back her sister.
Let me just say, I wasn't a fan of Theo's at all throughout the series, but what he went through and what he did to pay Marguerite back for the mistakes he's done shattered my heart. I couldn't help but love him; especially when he calls Paul his 'little brother'. The bromance there was undeniable.
---
P.S. I don't usually do this, but this felt like the perfect song for A Million Worlds With You:
Changing Tides by The Fray
---
---
A million universes. A million dangers. One destiny.
The fate of the multiverse rests in Marguerite Caine's hands. Marguerite has been at the center of a cross-dimensional feud since she first traveled to another universe using her parents' invention, the Firebird. Only now has she learned the true plans of the evil Triad Corporation—and that those plans could spell doom for dozens or hundreds of universes, each facing total annihilation.
Paul Markov has always been at Marguerite's side, but Triad's last attack has left him a changed man—angry and shadowed by tragedy. He struggles to overcome the damage done to him, but despite Marguerite's efforts to help, Paul may never be the same again.
So it's up to Marguerite alone to stop the destruction of the multiverse. Billions of lives are at stake. The risks have never been higher. And Triad has unleashed its ultimate weapon: another dimension's Marguerite—wicked, psychologically twisted, and always one step ahead.
In the conclusion to Claudia Gray's Firebird trilogy, fate and family will be questioned, loves will be won and lost, and the multiverse will be forever changed. It's a battle of the Marguerites…and only one can win.