I was tagged by the lovely Rendz @readingwithrendz to do this tag. She's obsessed with everything Narnia related and she's a fellow committed Marissa Meyer fan. She's super sweet and she's got amazing content. Head over to her blog and pay her a visit!
Okay, I'll be honest with you. I haven't read the books. I'm not sure I will anytime soon. I remember watching the first movie a couple of times with my cousins back in the old days. I was 8, and although the movie was pretty fascinating, I do remember thinking the it was a little creepy.
This book tag, though, is just too good to skip. And although it's been months since I've been tagged (I'm incredibly behind on book tags, I BOOKMARK them for God's sake!), I'm super excited to give it a shot!
---
NARNIA – A magical world you would like to visit?
I think it's pretty obvious by now that Velaris is my favorite magical/fictional world. I don't want to visit it,  I want to live there forever. Though if you'd ask my (really) younger self I'm pretty sure she'd pick the Teletubbies world (I'm actually VERY inclined to say that right now, but then you might think I'm weird lol) because while everyone grew up reading Harry Potter and The Chronicles of Narnia and whatnot, I grew up watching Teletubbies and Barbie in the Nutcracker (yes, it's a thing and I was crazy obsessed with it)
---
THE MAGICIAN'S NEPHEW – A book you think is underrated?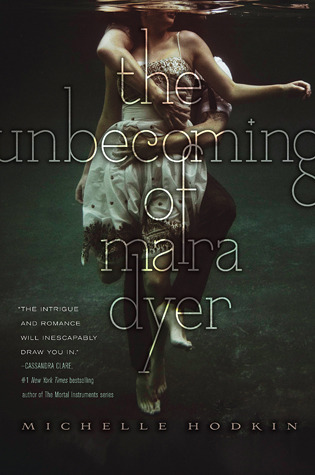 Although it's got 100,000+ ratings, I still think it's underrated. I personally believe that the Mara Dyer series is one of the best series out there.
---
THE LION, THE WITCH, AND THE WARDROBE – A classic that you love?
*eh-em*
---
THE HORSE AND HIS BOY – A book you picked up without knowing what it was about?
The Anatomical Shape of a Heart by Jenn Bennet. I don't know why I didn't read the synopsis, but it's actually become one of my favorite YA contemporaries.
---
PRINCE CASPIAN – A sequel that you loved?
Cress? Definitely!
---
THE VOYAGE OF THE DAWN TREADER – A quest you'd like to be a part of?
I think I'd like to go on a mission with the Dregs. It would be pretty dangerous but I think I'd like that, yeah. I actually had a dream once that I was  on a mission with Kaz & Inej. Turning that into a reality would be pretty cool.
---
THE SILVER CHAIR – A book you didn't expect to love?
Heartless by Marissa Meyer. I didn't know how to feel about reading  from the notorious villain's POV. But that book surprisingly made it to my favorites shelf. Or not-so-surprisingly. It was written by Queen Marissa Meyer for crying out loud!
---
THE LAST BATTLE – A perfect ending to a series you love?
---
THE PEVENSIES – A siblinghood of friendship you'd love to be a part of?
Rhys' inner circle!!
---
EUSTACE SCRUBB – A character who grew on you?
Wylan from Six of Crows XD
---
TUMNUS – Your favourite mystical creature?
Wyverns and Faeries!
---
REEPICHEEP: a loyal character
Matthias Helvar (pretty ironic, isn't it?)
to Nina, obviously.
---
THE WARDROBE – Your favourite hideout/place to read?
My bed!
---
readingsanctuary // darquedreamerreads // Angela @pooledink // readitrecommendit // missabigail // Charlotte @charlotteannelise // paperbackandflickchick // May @foreverandeverly // Emmie @teawithmermaids // Joana @bookneeders // Emma @emmajanellereads // bookchanted // Eva @brilliantlybookish // Shanah @bionicbookwormblog // Laura @thebookcorps // Sophie @blameitonchocolate // royalreader // Kristin @kristinkravesbooks // Des @desrandomthoughts // 5171milesbookblog